Although Contact Form 7 displays contact forms in U.S. English in its default settings, it bundles 60+ language translations and by using them, you can easily create a contact form in any language. Also, you can use Contact Form 7's administration panel in your own language.
Using Contact Form 7 in your language
You can use Contact Form 7 admin screen in your language. Because it follows WordPress's language setting, all you need to do is select your preferred language from the Site Language drop-down menu in the admin menu Settings > General.
When you have multiple users on your site and each user has a different preferred language, multilingual plugin like Bogo will be a great help.
Note that this procedure only affects language used in the admin screen. If you want to change phrases used in a contact form (form/mail contents, error/success messages, etc.), you need to edit each contact form.
Or, you can start a new contact form in your language with the translated template bundled with Contact Form 7.
Creating contact form in different languages
With bundled translations, you can create contact forms in different languages very easily. To obtain a translated contact form, simply click the Add new link, and select the language from drop-down menu.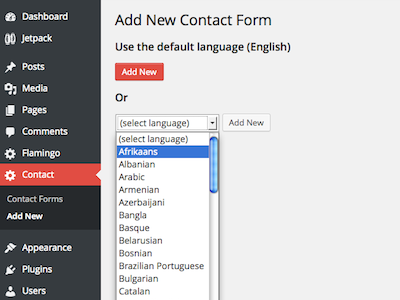 For example, if you are managing a multilingual blog with English and Japanese contact pages, you should create two contact forms — an English contact form for the English contact page and a Japanese contact form for the Japanese contact page.
If you have new translation
If you have created your own language pack, or have an update of an existing one, you can send gettext PO and MO files to me so that I can bundle them into Contact Form 7. You can download the latest POT file from here.